NEW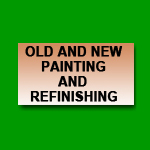 Old and New Painting and Refinishing Certificate
Old and New Painting and Refinishing
3 Gorden Drive - Industrial Park
Rockland, ME
Retail: $100.00
Our Price: $50.00
This $100.00 Midcoast DollarSaver certificate is for refinishing any piece of furniture from Old and New Painting and Refinishing. Cannot be combined with any other offers.
Old and New Painting and Refinishing
Rockland, ME
3 Gorden Drive - Industrial Park Rockland, ME 04841 -
Show Map
Old and New  Painting and Refinishing has been in business for 15 years. The do all aspects of refinishing and custom faux finishing. They will do on site work or bring your furniture to their shop. From new, to antiques, to full kitchens, and outside furniture they do it all! For more info please call 207-951-0811 or 207-659-6167.